Pool Accessories
Water Features, Lighting, Seating
Our goal at Wood Duck Pool and Patio is to design and develop the pool of your dreams. We have the experience and expertise to make your vision a reality, creating an outdoor oasis right in your very own backyard. Whether you are looking for swim-up seating, custom lighting, deck jets, or some other swimming pool accessories, we are confident in our ability to create a unique design just for you.
As the experts in the pool landscaping industry, we are committed to providing you with a pool you are proud to call your very own. With Wood Duck Pool and Patio, your pool accessory possibilities are virtually endless. Below are just a few ways that we can customize your pool for you.
To find out more about what we can do to make your pool wish come true, schedule a free backyard consultation with one of our expert pool designers.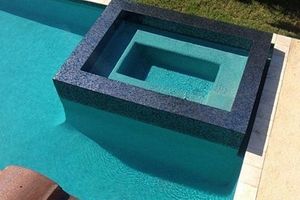 Spa
Give yourself the gift of therapeutic backyard hydrotherapy with a swim spa.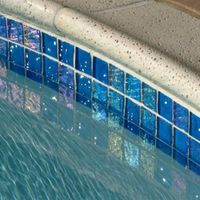 Waterline Tile
A tremendous variety of colors and fashionable stone-looking ceramic tiles are available.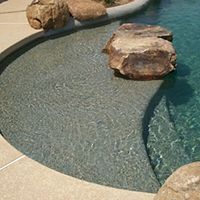 Sun Shelf
Typically six inches under water, a sun shelf is the perfect place for the kids to play or mom to lounge on a beach chair.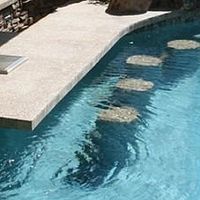 Swim-up Seating
Seating areas are an important consideration for pools. In addition to the popular bench type seating, stools are also available. Stools are frequently used in conjunction with a swim-up bar to create the ultimate backyard resort.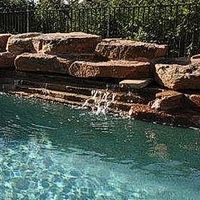 Natural Rock Waterfall
A natural rock waterfall is a dramatic and inviting addition to any swimming pool. The relaxing sound of flowing water will make you want to vacation in your backyard every day.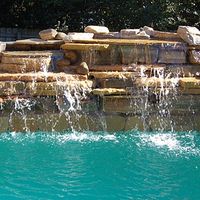 Stacked Stone Waterfall
Stacked stone is very popular and can be used in a variety of ways both as a water feature and as detailing.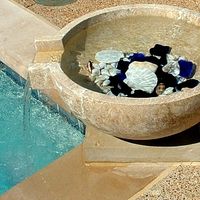 Wok Pots
Pre-cast wok pots are available in a variety of colors, shapes, and sizes.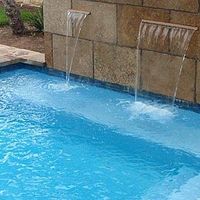 Scuppers
Add a raised area with spouts known as "scuppers" that pour water into the pool. Scuppers are available in a wide range of styles and finishes.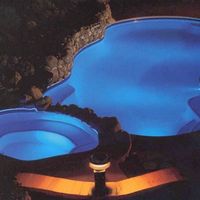 Lighting
Well-lit pools are beautiful at night. Options include remote-controlled, color changing LED, as well as fiber-optic lighting.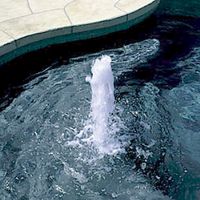 Telescopic Fountains
These fountains retract flush into the swimming pool floor when not in use. Use in groupings of three or five for a dramatic effect.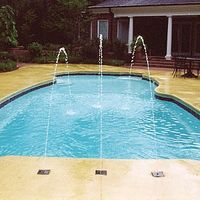 Deck Jets
Flush mounted jets that stream water into the swimming pool create a classic look.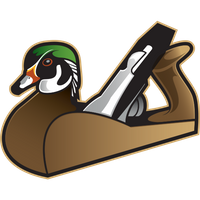 Terry and Lana Thompson 2010 Slumber Pass Timberwood Park
You have built us a special place. I thank the Lord for your talent He has given you. Everything about our house is wonderful.
Contact Us Today for a Free Estimate